What kind of profession do we dentists actually have? Apparently we are vital at the moment because dental practices have remained open during this COVID lockdown. Of course I know that my work is very meaningful, but it hasn't always felt that way to me. A visit to the dentist is annoying and expensive for many people. And since most dental care isn't included in our basic insurance plan, it is apparently you can do without…
I would like to introduce myself: I am Marijke Westerduin. In recent years I have worked as a general practitioner and dentist-lecturer at the Radboud University in Nijmegen and occasionally as a volunteer dentist in West Africa.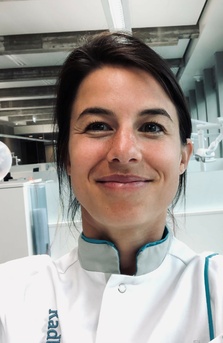 When I completed my dentistry studies in 2007 and was at work, I sometimes felt so moved by my patients' emotions that I regularly wondered whether my actions were the right thing to do. I wondered whether we might be causing more suffering than relief. For example, when I comforted a crying patient after the news that a root canal or extraction needed to be done, I wondered whether the necessary treatment was crucial for their health and happiness.
That thought changed when I went to work for the medical aid organization Mercy Ships in Togo for 7 months. Togo is one of the poorest countries in the world and due to a lack of dental care providers, hundreds of patients would wait outside the clinic every day. No appointment, just the hope that they might be helped. I saw so much misery: swelling, extraoral fistulas, and a lot of basic, necessary teeth that had been lost. What struck me quite a bit were, for example, young girls with unsightly front traumas who, without our help, would have had to carry on like that, with pain complaints and a battered appearance.
By seeing with my own eyes what happens to people when there is no access to oral care, I now understand better what a wonderful and important profession we have. Now when I perform a difficult procedure, I realize what an incredible privilege it is to be able to treat this patient at all. And above all, I realize how much suffering it prevents. In my opinion, we should all enjoy and find fulfilment in our work knowing we have a meaningful and essential profession!
In this COVID time, I am teaching online dentistry students in Conakry, Guinea and working on my dream of improving access to oral care in West Africa. As soon as this crisis is over, I will return to work in West Africa as a volunteer through the organization Mercy Ships. We will be there for two years. I would like to take you with me in the coming months to share my experiences and my thoughts about it.
This column was published in the "Nederlands Tijdschrift voor Tandheelkunde" in the June 2021 edition (www.ntvt.nl).